Cheap Sportrak Tyres Melbourne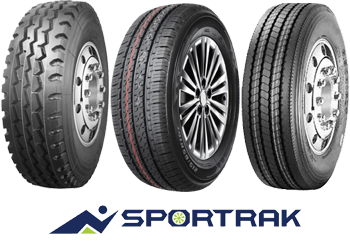 Mobility is unimaginable ever since the existence of tires. Sportrak are the manufacturer of Tube & flaps, passenger car tire, radial truck and bus tire. They have 37 varieties of radial truck and bus tires to choose from and 9 varieties of passenger car tires. That's a huge choice given in combination with top quality product, mastery over its installation and excellent customer services. Production of radial truck and bus tires alone is around 3.60 million pieces per year. Passenger car tires are 12 million pieces annually. Other than tire production factories Sportrak has a rubber processing plant in Thailand.
Call us to get cheapest Sportrak tires
Emphasis is to make a quality product with no compromise on the rubber used for making the tire sturdy, smooth and strong when rolling on the roads. We as a responsible eco-friendly company have invested on nano-green technology in the manufacturing of our products to cut down on the environmental hazards created by our products manufacturing. Being ahead in the market became possible with the implementation of advanced VMI moulding machines and other Hi-fi heavy manufacturing machines, testing equipments imported from Europe and Japan. We will be branching out more in various nations to have a better exposure and experience with the clients.
Sportrak commitment to quality and no compromise in making its products has resulted in gaining a multinational clientele spanning across Southeast Asia, North America, Europe, Middle East, Africa, South America and many more. Our company has taken steps towards environment protection making our technology nano-green. Over the span of the time spent in the market so far we have received many accolades and reviews for our products and services. We would be rolling and still running with your for many more decades to come. We are certified ISO9001 Company, holding many more certificates to excellent incomparable products and services.
FIND THE BELOW LIST OF SPORTRAK TIRE PRODUCTS