Cheap BF Goodrich Tyres Melbourne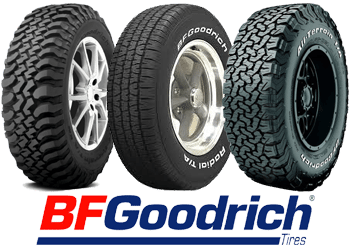 Are you looking for Cheap BF Goodrich Tyres Melbourne? Then you have come to a right place. At Tyre Deals we Give Best Experts tested used Cheapest BF Goodrich Tyres in Melbourne. BF Goodrich was acquired in 1896 to start with the manufacturing of pneumatic automobile tires. First American tire company situated in the West of Appalachian mountain range. They are the first to manufacture rubber tires. In 1903 came the biggest breakthrough Ford Motors officially announced BF Goodrich to provide tires for Model A Ford.
Many more achievements and merges took place over the decades and officially now they are an expert in making all kinds of tires suitable for all kind of terrain. There is an array of variety to choose from most suitable for your vehicle and drive type.
Call Us To Get Cheapest BF Goodrich Tires
There is a saying for BF Goodrich i.e. tires made for enthusiasts and by the enthusiasts. If you are one of them then your vehicle must be equipped high quality, performance proven tires, for long lasting mobility and safety on road while driving. Giving its buyers more control over the vehicle in terms of speed and stability. SUV, Car, 4×4 or car competition type tires we have it all.
All rugged terrain without marked built roads, our tires are going to make your drive worthy through those unmade roads. How? Excellent high-tech technology, material and expertise used in the making of each piece.
BF Goodrich tires tested across all the terrains from desserts, mountains, marshes and wet lands. Proven test drives and excellent quality has always made the mark of the product in customer experience.
Our company lived the test of times and associated with Michilen makes the services more powerful and customer centric. Our endeavour is to answer all your concern and queries and provide you a product offering complete customer satisfaction.
Visit our website today and check the array of options available for you to test drive and then make your purchase call with us.
FIND THE BELOW LIST OF BF GOODRICH TIRE PRODUCTS
No products found matching your selection.